Harvey A. Kong Tin
Go to bottom of page/contents to skip this page. I've been here before.
Personal Details
Hi! Here are some old photos, these were taken around late '98 and in 2000. The children pictured, are my nephew Mitchell (8) and Kelsey (4). They are like little angels at times, and can be rather temperamental, especially Kelsey.
The photograph at the bottom of this page, was taken in 2000, with the same Kelsey, as in the earlier photograph - being the one and same.
You can contact me by sending me a postcard, with a return address.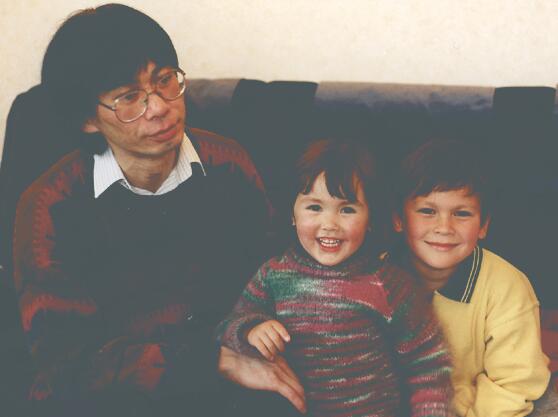 Harvey A. Kong Tin,

2 Hall Street, South Dunedin, Dunedin,NEW ZEALAND

I am honest and will never hide any flaws of character I have because I believe in truth and honesty. And so I must declare I have not been working in a long time, and have very little money. If you can put up with these qualities, you can rely upon me in other areas. I do believe that the best things in life, do not cost the earth. Good health, company, a nice place to live and the right attitude towards life and people around you.
I do hope to become successful one day, by working hard on the 'truth' and bringing it to the people - because of the failure of the politicians, clergy and various other establishments and academics, etc etc.
My loves and hates are ...
I watch a lot of news type TV programmes, such as 60 Minutes, 20/20, etc. I enjoy listening to female vocals such as: Enya, Wilson Philips, Jenny Morris, The Bangles, Gloria Estefan, Debbie Gibson, Pat Benetar, etc.
I enjoy watching TV adaptions of Catherine Cookson on TV, these include:
The Black Robe, The Black Candle, The Cinder Path, The Gambling Man, The Man Who Cried, The Moth, The Rag Nymph, Tide of Life, Colour Blind...
These are romantic stories, usually set in England 1800s to early 1900s. Stories about love in which there is a happy ending. The programmes are made by Tyne Tees Television and usually the casting is spot on.

As you can guess, I'm not a party sort of person, preferring instead quiet nights at home, with friends, etc. My past interests are: Still Photography, Drawing and Graphics Design. The two pictures you see here, one on this page and the other on the front page, are drawn by me, done many years ago. Only 16 colours are used.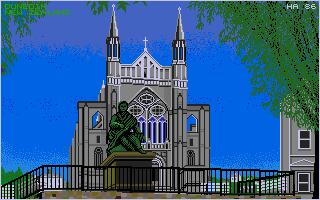 Robbie Burns statue and St. Paul's Cathedral, Dunedin, NEW ZEALAND
Friends?
I don't mind making new friends, who share similar interests or outlook on life. I'm particularly keen on female friends because I don't have such girlfriends in my life. I'm somewhat introspective and have a distant, aloof look about me, that is a front, naturally. While it acts like a buffer so that my sensitivity is not hurt, it also makes me appear to not feel interested in people. I know it's an excuse to say I'm quiet and shy, as far as meeting people in person. Writing is a different matter.
I am working on a special book project and I do need help with it. While I can complete it on my own, it would be quicker to complete with some co-writing involved, etc etc - it is titled along the lines of:

Truth 101 - The Simple Guide to the Truth in the World
Everything you wanted to know about - But were afraid of Asking
The Secrets of World Revealed - Honestly and Truthfully - No Bull
The Answers you couldn't get from your Teacher(s)
What everyone didn't tell you....
etc ... etc ... etc

I do have a special passion for playing volleyball, having played for a great number of years now. I'd vote it for the number 1 sport to play because you can be your own individual self in it. Give it a good try - because you can surprise yourself in it. It does take some time and effort to develop the basics needed to play well. You need to be able to laugh at your actions at times, in it too.

Email Harvey, if you want to chat over anything covered in these web pages. Email conversion is always welcomed.
Write to: Harvey at kiwilove@ihug.co.nz
We are only here on this planet for a limited time and need to make contact with old friends as well as make new friends.